Tags
84, Allegiant, Antoine Laurain, books, Charing Cross Road, Christina Baker Kline, Delicious!, Divergent, First Frost, Garden Spells, Goodreads, Helene Hanff, Insurgent, Jonathan Tropper, Laird Hunt, Liane Moriarty, Neverhome, Orphan Train, Pi Beta Phi, Pi Phi Pages, reading, Ruth Reichl, Sarah Addison Allen, Summer Reads, The Husband's Secret, The Red Notebook, This Is Where I Leave You, Veronica Roth
Since I last posted about The Guernsey Literary and Potato Peel Pie Society, I have read 12 books. (You can check out all the books I've read so far this year on Goodreads or on my 2015 Books page.) With 12 books to get you all caught up on, I'm not going to write a full book review for each one. Instead, I'm going to give you a brief review of each one here, along with my rating for each.
This Is Where I Leave You by Jonathan Tropper
3/5 Stars – I had high hopes that this book was going to be as funny as advertised (I saw this book on a list called "Books Guaranteed to Make You Laugh Out Loud"), however I ended up not laughing out loud like I hoped I might. Instead there were a few zingers that made me chuckle, but much of the humor was darker and the story seemed to revolve more around a guy going through a personal crisis that coincides with his father's death. He doesn't have the best relationship with his family as it is, and then they have to sit shiva together. While Tropper attempted to make this situation humorous, most of it ended up being cringe-worthy. There was a lot that happens in the book and the importance of family is stressed, hence my 3 out of 5 rating.
84, Charing Cross Road by Helene Hanff
5/5 Stars – This book was recommended to me after I expressed how much I loved the format of The Guernsey Literary and Potato Peel Pie Society. This is not a very long book, but it is also nonfiction. It's interesting to read the letters between the author, who was in the United States, and Frank Doel, who was in London, as they developed a kind of friendship based on the search of books. The letters are absolutely priceless, plus they introduce the readers to other titles they might spark an interest in them as well.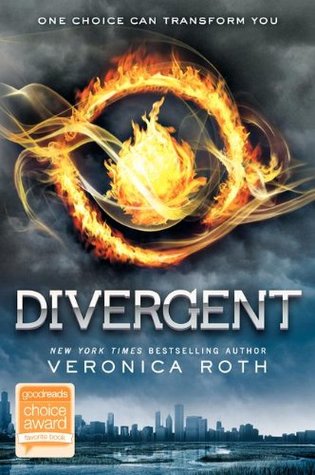 Divergent by Veronica Roth
4/5 Stars – Divergent has been a book that I've been meaning to read for a while now. However, it usually seems to be checked out from the school libraries. (Always very promising from an English teacher perspective.) I was a fan of Hunger Games, however I found Divergent to be much more believable in its premise. (I promise not to give anything away.) I was intrigued by the different factions, and I know I found myself wondering if I had the choice, which one I would choose. Not an easy question to answer. I really enjoyed this book, but I felt like by the time I was really starting to get into the story line, it was over. This turned out to be good for Roth though because that meant I had to read the next book in the series.
Insurgent by Veronica Roth
4/5 Stars – Insurgent is the second book in the Divergent series. I also really enjoyed this second book in the series as we follow more of what happens to Tris and the decisions that she is continuously forced to make. It was sometimes hard to remember that she was simply a teenager forced to make decisions that not only affected her future, but those of the ones she loves and cares about (even those she doesn't care for as much). The information that is revealed about the existence of the society that Tris belongs to is very intriguing. It is revealed that Tris's parents, along with other high-ranking adults, have been keeping a secret that could change the reality that they all believe to be true.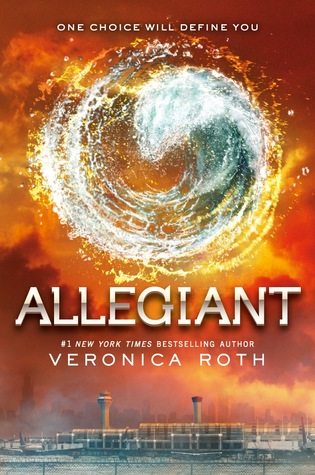 Allegiant by Veronica Roth
3/5 Stars – Allegiant is the third book in the Divergent series. I of course had to keep reading through to the end of the series. I had a little bit of a harder time with this book because the perspective kept switching between Tris and another one of the characters. This disrupted the flow of reading for me as I had to keep checking the beginning of each chapter for whose perspective I was getting. However, it was interesting to read about the group that traveled with Tris as they discover the secret that has been kept from their whole society…a secret that changes everything they ever believed and even causes Tris to question what she knew about her own mother. While this was a good book, it seemed to be lacking something that the other two had.
Neverhome by Laird Hunt
3/5 Stars – Neverhome by Laird Hunt was the July book club read for Pi Phi Pages, the Pi Beta Phi Virtual Book Club. I was initially very excited to read this book as it is about a woman who has disguised herself as a man in order to fight in the Civil War. I know that Hunt used the experiences of different women and their roles in the Civil War to create this novel. As you may know, I absolutely love historical fiction novels. To be honest, it did take me a little while to get into the book, but that's because Hunt jumped right in to Ash's story. As we learn more and more about Ash I became more and more intrigued as she showed herself just as able, and sometimes more so, to fight in the war with the men. Her journey home was just as intriguing as some of the battles she faced. However, Hunt throws in a twist at the end that has me questioning everything about the story I had read. I did not find this twist necessary and wonder about this choice that Hunt made, and what we are supposed to gain from it.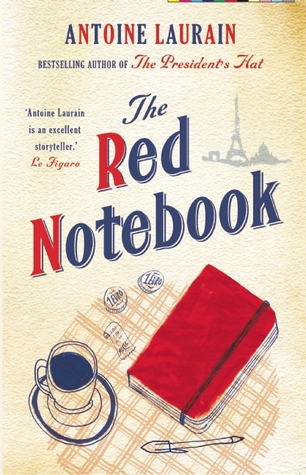 The Red Notebook by Antoine Laurain
4/5 Stars – The Red Notebook was a book recommended to me by Amazon when I bought 84, Charing Cross Road. This was a sweet little book that I really enjoyed. It was fun to watch Laurent try to figure out the owner of a purse that he finds on the street. The only clues he has to find the woman come from the contents of her purse, most importantly her red notebook that hold her most intimate thoughts and a book signed by a reclusive author. While there was a hint of romance to the story, it was much more intriguing as a mystery. It also made me wonder what someone might think of me if all they had to go off of were the contents of my bag. It's an interesting thought and it was a fun little story to watch unfold. Definitely a great read for a weekend.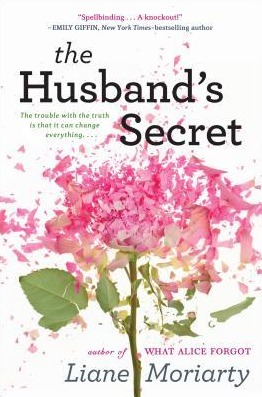 The Husband's Secret by Liane Moriarty
4/5 Stars – The Husband's Secret is a book that has been showing up on many to-read lists lately. I'm glad I finally had the opportunity to read this novel. Most of the story actually ends up revolving around a murder that took place in 1984 that has gone unsolved in a town in Australia. All of the characters are in some way connected to either the murder or members of the girl's family. In addition to the unsolved murder is a curious letter left my one of the character's husband which is to be opened upon his death. However, his wife finds it while he is on a business trip. She ends up reading the letter and the information he has written in it spends her world into a downward spiral as he reveals a life-changing secret that explains his recent behavior towards his wife. This was a very good novel that I thoroughly enjoyed. It had me questioning the decisions that we have to make when it comes to our loved ones. I can see why so many people have been wanting to read this book.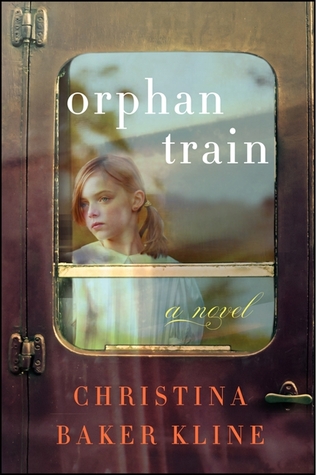 Orphan Train by Christina Baker Kline
4/5 Stars – Orphan Train is another novel that has been showing up on a lot of recommended reading lists. While this novel does change perspectives, it's not difficult to follow the changing characters. The two have a lot in common even though they don't realize it when they first meet. It was interesting to read Vivian's story as she was the one who became a part of the Orphan Train when she was young and her family lost. Her story is a tragic one with some happiness, but she is able to make a difference in Molly's life as Vivian tells Molly her story. I felt as though the end of the novel came a little too abruptly…I would have liked just a little bit more before Kline concluded Vivian's and Molly's stories.
Delicious! by Ruth Reichl
4/5 Stars – I happened upon Delicious! by accident as I was searching through the library's ebook loan system for another book to read. This book ties in fictional letters that were written to James Beard while he worked for the magazine "Delicious!" during the second World War by a young girl. These letters are found by Billie as she is left to maintain the Delicous! offices after the magazine has been shut down. These letters help Billie come to terms with events that have transpired recently in her own life, and also help her to strengthen the relationships of those she worked with at the magazine. It's a great book if you enjoy a little bit of historical fiction mixed in with some wonderful descriptions of food.
Garden Spells by Sarah Addison Allen
4/5 Stars – I ended up reading Garden Spells because I wanted to read First Frost and this book is actually the first one in the series. Garden Spells is a fun novel of magical realism. The Waverely family is known in town to be "strange," but each woman in the family has their very own special gift. In this first novel, the sisters Claire and Sydney must learn what it means to be family and how to support one another. Sydney, and her daughter Bay, are also trying to start their lives over as they leave a bad situation which forces Sydney to acknowledge her Waverley roots and return to a home she once ran away from. This was a fun book to escape into.
First Frost by Sarah Addison Allen
3/5 Stars – First Frost is the second novel in the Waverley family series. I had been waiting for this book to become available through my library. This was another fun magical realism novel as we learn more about Bay and her own kind of Waverley magic. While I did enjoy this novel, I did feel like it took a little bit longer for me to become involved with the family's story this time around. However, by the end of the book I was hoping for more of the story and because it ended I'm looking forward to a third book in the series. (Fingers crossed!)
A synopsis for each novel can be found by clicking on the title and reading about it on Goodreads.