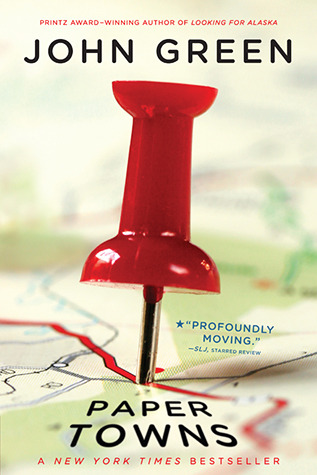 Quentin Jacobsen has spent a lifetime loving the magnificently adventurous Margo Roth Spiegelman from afar. So when she cracks open a window and climbs into his life—dressed like a ninja and summoning him for an ingenious campaign of revenge—he follows. After their all-nighter ends, and a new day breaks, Q arrives at school to discover that Margo, always an enigma, has now become a mystery. But Q soon learns that there are clues—and they're for him. Urged down a disconnected path, the closer he gets, the less Q sees the girl he thought he knew…
(Synopsis and cover image from Goodreads.com)
I finally got around to reading Paper Towns by John Green! I have been waiting to read this book for a while now, and finally I had the opportunity to do so. I am so glad that I read this book, especially after reading The Fault In Our Stars, Looking for Alaska, and An Abundance of Katherines. (Visit my 2015 Books page to see a list of these books and more that I've read and reviewed.)
John Green has created a great novel about discovering yourself and getting outside of your comfort zone. Quentin, or "Q" as he is called by his friends, finds himself following a very specific routine each day of his life as he finds himself approaching the end of his high school career. Quentin believes that he knows what is going to happen in his life each and every day, and he prefers it that way. But his next door neighbor, Margo, has other plans in mind for Q.
When they were younger, Margo and Quentin experienced something that would forever change the way they both viewed life. For Quentin, it seemed to be falling into a "safe" routine. For Margo, it seemed to be to experience life in as many ways as possible. When Margo pulls Q into one night of carrying out her schemes that involve other students in their school, Q feels his life has changed and can't wait to see what school will be like for him the next day. But that night changed more than just Quentin's life…it changed Margo's as well. So when Quentin gets to school and Margo isn't there, he knows that something is not right.
Quentin and his friends must figure out what has happened to Margo, and in doing so, they find out who they are as they discover who Margo was and how much they actually did not know about the girl they thought they knew.
John Green has once again created an amazing work of fiction that pulls the reader into the story. Green has the ability to make any reader, no matter what age, be able to relate to and empathize with the characters and the story that he has created. Paper Towns allows the audience to truly think about the lives that they have created while discovering how easy it is to fall into a comfortable pattern of behavior. This is another one of his books that I think each person should read and discover for themselves,  not only who Q and Margo are, but also who they think they are.
Now I really can't wait for the movie version of Paper Towns to see how they manage to recreate the thrill of discovery and the mystery that surrounds Margo!