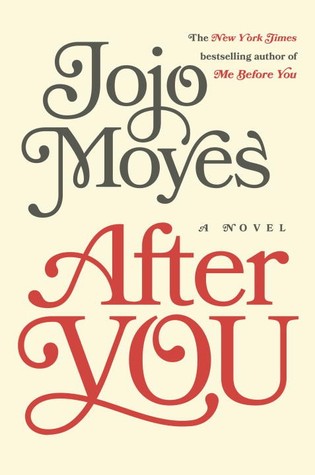 Dear Reader,
I wasn't going to write a sequel to Me Before You. But for years, readers kept asking and I kept wondering what Lou did with her life.  In the end the idea came, as they sometimes do, at 5:30 in the morning, leaving me sitting bolt upright in my bed and scrambling for my pen.
It has been such a pleasure revisiting Lou and her family, and the Traynors, and confronting them with a whole new set of issues. As ever, they have made me laugh, and cry. I hope readers feel the same way at meeting them—especially Lou—again.  And I'm hoping that those who love Will will find plenty to enjoy.
—Jojo Moyes
(Letter from author and cover image from goodreads.com)
Earlier this year (in June) I read Me Before You by Jojo Moyes. It had been on my TBR list for a while, and when I was finally able to get a copy of the book from the library, I could not put it down. (You can read my review of Me Before You here.) I was really drawn into the life and choices that Lou and Will were faced with, and I loved the way that Moyes handled the situation.
So of course, when I heard that Jojo Moyes was writing a second book that followed up with Louise after Will,  I was very excited to see where this new information would take us. I immediately put myself on the waiting list for a copy of After You through the library app, and kept checking to see how many people were ahead of me. Then last week I got the long-awaited email….it was finally my turn to be able to read the book!
Without giving too much away, I will say that Louisa was kind of where I expected her to be. She was still trying to figure out how to function in her "new" situation in life. I think that Moyes really showed the reader accurately how the grieving process works. She was able to show through her characters how each person copes with situations differently, and what continuing to live means for them.
Lou was still trying to figure out what her "new" life meant for her, but seems to be falling into old habits…settling for things that don't really improve her life, but simply allow her to exist. Her world, once again, gets shaken up by an unexpected visitor and a fall off of a building. (I promise this isn't a spoiler!) Lou begin to take a closer look at her life, and becomes more open to the idea of making the changes that are necessary for her to truly thrive. It's not an easy task, and many times she is pushed by her family, as well as the need to confront old ghosts.
While I did enjoy After You, I do feel a bit let down at the same time. I was not as emotionally involved in Lou's life like I was while reading Me Before You. However, I also realize that it is difficult to recreate the chemistry we saw in Me Before You. After You is an absolutely accurate portrayal of what life becomes like after such an experience, and I think this is reflected in the tone of the writing. If you  enjoyed Me Before You, I think you would be interested to read After You to see what Louisa's life has become. There's  also some interesting revelations of Will's life in After You that keep Louisa going.