Tags
author, book review, books, Goodreads, historical fiction, Life, Literature, Paula McLain, reading, The Paris Wife, writing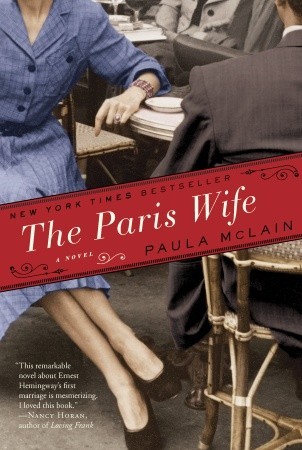 Chicago, 1920: Hadley Richardson is a quiet twenty-eight-year-old who has all but given up on love and happiness—until she meets Ernest Hemingway. Following a whirlwind courtship and wedding, the pair set sail for Paris, where they become the golden couple in a lively and volatile group—the fabled "Lost Generation"—that includes Gertrude Stein, Ezra Pound, and F. Scott Fitzgerald.
Though deeply in love, the Hemingways are ill prepared for the hard-drinking, fast-living, and free-loving life of Jazz Age Paris. As Ernest struggles to find the voice that will earn him a place in history and pours himself into the novel that will become The Sun Also Rises, Hadley strives to hold on to her sense of self as her roles as wife, friend, and muse become more challenging. Eventually they find themselves facing the ultimate crisis of their marriage—a deception that will lead to the unraveling of everything they've fought so hard for.
(Story synopsis from Ballantine Books edition; Cover image from Goodreads.com)
(My first book review post of 2016!)
I recently (yesterday) finished another book on my TBR list. As I'm sure you already know based on the title of this post, I just read The Paris Wife by Paula McLain. I had heard many great things about this novel, and when I posted on Instagram a picture of the book there were numerous responses from others saying how much they enjoyed this novel. I'm not going to say something that may not sit well with those people…I thought this book was okay.
I enjoyed the story, I really did, but I think somewhere in the back of my mind I kept comparing it to Z: A Novel of Zelda Fitzgerald by Therese Anne Fowler. I had read that book first (in 2014), and of course Hemingway made appearances in that novel as Fitzgerald makes appearances in The Paris Wife. (I thought I had written a review of Z: A Novel of Zelda Fitzgerald but I apparently didn't. L My apologizes.) This might have skewed my perception of The Paris Wife, but I don't know if that's entirely true either.
For me, there seemed to be something missing from the overall feel of The Paris Wife. I wasn't completely drawn in to Hadley and Ernest's story. While the spark between them was talked about, I don't know that I truly felt it. Hadley to me seemed flat in some ways. I know that McLain was striving to make her the heroine of the story, but to me she always seemed lost with moments of strength. I know that this can be hard to achieve when writing about someone who actually lived and did the things that were written about. That might be one of the biggest struggles with writing historical fiction: staying true to the person while creating situations and conversations to convey the true being of that person, or showing another side to them and the way they lived.
I wanted to love The Paris Wife, but it was hard. After everything I had heard about this novel, I had such high expectations for it, and am a little sad that I didn't enjoy it more. I also came away pitying Hemingway even though a lot of what he said about writing and the process of it really resonated with me.
I wish that I could give you more, dear reader, but as always I will leave the final decision up to you. Happy Reading!