Tags
author, Book Club, book review, books, Dignitas, Goodreads, Jojo Moyes, Life, Literature, Me Before You, Pi Beta Phi, Pi Phi Pages, reading, writing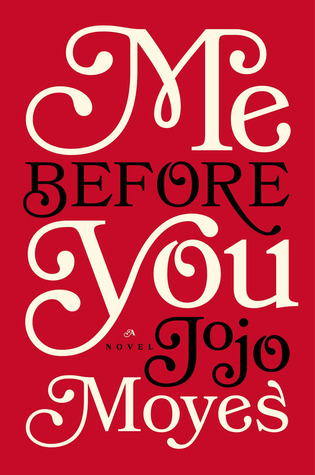 They had nothing in common until love gave them everything to lose
Louisa Clark is an ordinary girl living an exceedingly ordinary life—steady boyfriend, close family—who has never been farther afield than their tiny village. She takes a badly needed job working for ex–Master of the Universe Will Traynor, who is wheelchair bound after an accident. Will has always lived a huge life—big deals, extreme sports, worldwide travel—and now he's pretty sure he cannot live the way he is.
Will is acerbic, moody, bossy—but Lou refuses to treat him with kid gloves, and soon his happiness means more to her than she expected. When she learns that Will has shocking plans of his own, she sets out to show him that life is still worth living.
(Story synopsis and cover image from goodreads.com)
February brought another great book to the reading list for the Pi Phi Pages Book Club: Me Before You by Jojo Moyes. As with the January book, A Man Called Ove by Fredrik Backman, this novel is also a movie and one that is also really relevant to the world that we live in. Moyes creates a wonderful story and is one that I believe every person should take the time to read. However, I must start this off by already disagreeing with part of the story summary from above…I don't think this is a "romance" story, or a "love story" in the typical sense. Nope, instead I think it is something so much more.
(Warning: This review may contain, what some people could consider, spoilers.)
Instead, I believe that Me Before You is a novel that presents the issue choice. And I'm not talking about the Bruce Jenner type of choice…it's more about the choice of what can and can't someone decide for themselves when they are truly sick or can no longer lead the type of life that they consider to be one of quality.
In the novel, Me Before You, Jojo Moyes introduces us to Will Traynor, a very successful and adventurous young man, with his pick of any gorgeous woman in his well-to-do circle.  However, Will is soon involved in a terrible accident that forever changes his life. Because of this accident he is now a paraplegic, and is confined to his family's home outside of London. After a suicide attempt, Will's parents have determined that he can no longer be left alone.
This is where Lou (Louisa) Clark comes in. She is a young woman who has her entire life in front of her, but instead she does not really have any expectations for her life. She seems to be content living in the same small town, seeing the same people every day – never attempting to challenge herself. She ends up taking a job as Will's companion because her personality seems to fit – and she's told it will be a 6-month position with great pay. Louisa soon learns though why this job was only offered as a 6-month job – Will has promised his family 6 months before he goes to Dignitas. She has been hired to try to change his mind and bring happiness into Will's life again.
Sidebar: I had to look up what Dignitas is. For those of you, like me, who do not know, Dignitas is an organization located in Switzerland. It is an organization that helps those with terminal illness and severe physical and mental illnesses to die. There is more information on their website.
What I would consider the main portion of the story, is Lou trying to show Will how his life can be just as enjoyable and worthwhile even though he is not confined to a wheelchair. Through the process, Lou begins to challenge herself and begins to step outside of her comfort zone as she plans outings and events for her and Will, and sometimes Will's caretaker, to experience. It is throughout these events that Will begins to see Louisa for who she truly is, since at the beginning he was merely trying to push her away and bully her out of his life. It is through these efforts that Louisa begins to appreciate everything Will has been through, and also begins to learn more about herself as she truly begins to understand what it means to be happy.
However, the biggest question that I think comes up throughout the novel is, Does Will have the right to choose when he will die? Is it right for Will to decide to take end his life as it currently is?
I believe that these are questions that there will never be a real answer, and I think Jojo Moyes' novel, Me Before You, does an excellent job of presenting all sides that would be involved in such a decision. Of course, you have Will and we know exactly how and why he feels the way that he does. There's also Louisa, whose thoughts and feelings come through strongly in the novel. But then we also get to see how Will's parents and sister handle his decision and why think the way that they do, despite how Will feels. There is never truly a right or wrong decision, as we see through Me Before You, but I do believe that there is more understanding to be gained.
This was another great novel that I think is a great conversation starter, but also one that explores life as it truly can be-with all of its ups and downs, all of the happiness and the sadness, all of the confusion and difficult decisions that must be made. I highly recommend this book and think everyone should give it a read.
To see other novels by Jojo Moyes, visit her website.